Vittoria Rubino Pro IV
Size: 700 x 25 mm
Max: 110 psi | 220 TPI
Type: Clincher
Bead: Folding
235g
Profile: Road training / Racing Events
Conditions : Wet / Dry weather
Made in Thailand
In stock
The all-round series is the riders' choice for everyday performance. The Rubino Series offers a wide variety of choice to fit all types of intended use.
 

The popular all-round tire is the best in its category with its finely tuned balance of all critical elements that make a great product. Designed for intensive training it is equally suitable for racing events.
The best all-round tire
3 compounds for best speed, grip, and suppleness
Extra anti-puncture protection and suppleness thanks to a thicker tread
Technology:
 3C
3 Compounds (3C) is applied by Vittoria to deliver all-round products without compromise. Vittoria 3C is a layering process, using 3 separate compounds in the same tread. The different properties of each compound, including the G+ Isotech*, allow for the improved experience in all circumstances.
 G+ ISOTECH COMPOUND
G+Isotech®* is Vittoria's unique Graphene compound with revolutionary G+*, as provided by technology partner Directa Plus. No compromise is necessary with this compound that is superior in speed (rolling resistance), grip, durability and wear resistance.
 VITTORIA CLINCHER
– Wear resistant tread with low rolling resistance
– PRB 2.0 breaker for excellent flat protection
– Strong Nylon casing from 26 to 220 TPI
– Butyl or latex inner tube
– Foldable and rigid version available
Only logged in customers who have purchased this product may leave a review.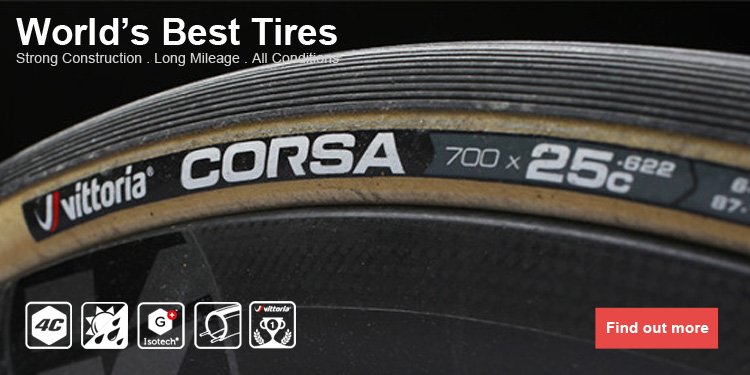 Vittoria is an Italian bicycle tire manufacturer established in 1953. Vittoria has more than 1,000 employees around the world, produces 5 million tires and runs production of Geax mountain bike tires, Their facilities around the world include: USA, Thailand, Hong Kong and Taiwan. Shop your Vittoria bike tires at USJ CYCLES now.
---