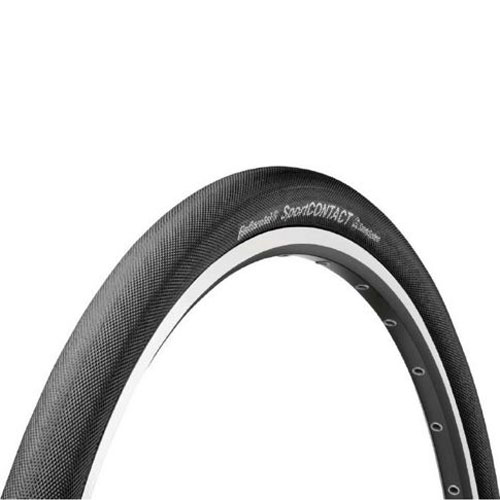 Continental Sport Contact II
This super fast looking city slicker turns any bike into a racer, helping bike messengers meet those tight deadlines or fitness riders who require a faster tyre than the original knobbly tyres that their bike was supplied with.
Highlights:
480g (700×32)
Dimensions ETRTO: 32-622
Rec. Inflation Pressure (psi): 70-80
Max. Inflation Pressure (psi): 87-102
Ply/TPI: 3/180
Bead: Wire
In stock
NOTE : 0% GST.
Colour or size is subject to availability


Only logged in customers who have purchased this product may leave a review.

Continental Tires Malaysia
More than 100 years experience in the development and production of bicycle tyres has made Continental a unique company within the industry.
Continental is the only German bicycle tyre manufacturer to produce its tyres in Germany. Knowing this serves as a mighty incentive to our engineers and everyone else involved in the manufacturing process to constantly strive for further innovations.
In our technology and development center in Korbach, we are constantly developing new revolutionary technologies such as the unbeatable Black Chili compound and the ultimate Vectran™ breaker anti-puncture technology, both used at the top end of race sport.
These technologies demand sophisticated processes to ensure our legendary end-product quality, and these innovations as well as the ProTection and RaceSport technology for MTB tyres, can only be manufactured in our factory in Germany – "Handmade in Germany".
In order to offer the best tyre for any application, we rely equally on dialogue with our professional racers, hobby cyclists and everyday bike riders.
As a global player, Continental also maintains high-tech production facilities outside of Germany, where Continental tyres are produced for you with an equal degree of care and dedication. One thing all Continental bicycle tyres have in common is that they are developed in the technology center in Korbach, Germany, where they also undergo strict inspection.
Our heart and soul is behind the phrase "Handmade in Germany", with all of its products and technologies.
Have fun experiencing the Continental products! Our team works hard for you!
Related products