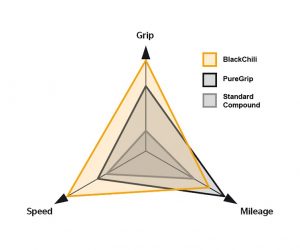 GP5000 is the best all-rounder in the field, brought to a whole new performance level. Ride faster, more comfortable and with increased puncture protection. Made to make you better.


Black Chili Technology
With our unique tread compound, which is produced only in Germany, we have revolutionised the sport of cycling. With the legendary BlackChili Compound we have answered the eternal question of the best balance of grip and rolling resistance for cycling.
Regular test wins confirm the measureable and noticeable advantages for the cyclist, established in the laboratory and on the road. The latest polymers as well as specially developed carbon black particles and filler materials guarantee unique performance
[div]


Active Comfort Technology
The revolutionary approach in cycling. Embedded in the tire construction the Active Comfort Technology absorbs vibrations and smoothens your ride.
[div]


Lazer Grip
Lazer Grip, to make you one with the road. The lazered micro profile structure expands over the tire's shoulder and provides outstanding cornering.