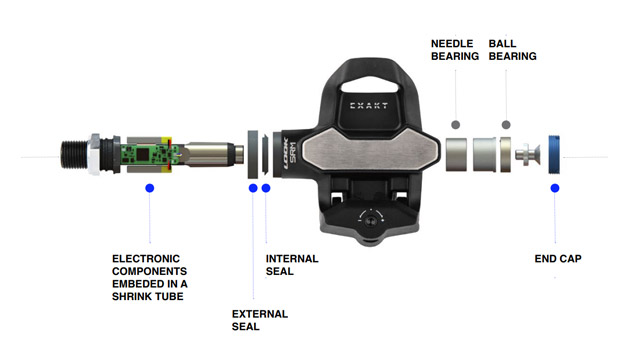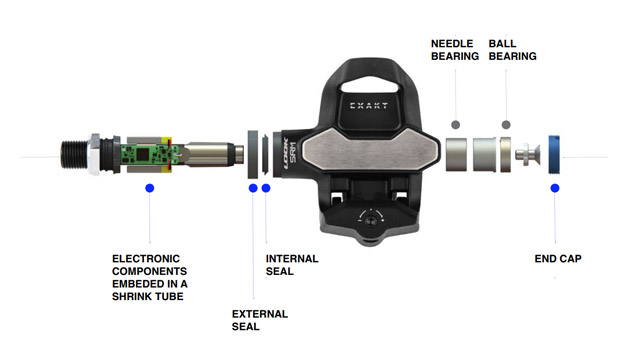 The EXAKT power meter is the result of a close collaboration between two leaders : LOOK and SRM.
SRM developed in 1986 the first power meter, then democratized this technology by equipping the greatest champions and cyclists in search of true training precision.
LOOK invented in 1984 the first automatic pedal, revolutionizing the world of cycling. Continuing to evolve this technology in recent decades, LOOK pedals are a model of innovation and performance.
Imagine a totally integrated power meter, extremely accurate, reliable and ultra light !
The EXAKT power meter changes the rules and redefines the limits to enter in a world of precision, control and constant progression.
POWERFUL – LIGHT – RELIABLE
The carbon pedal body ensures an incomparable lightness and stifness. The contact surface is made with stainless steel material for optimum stability and power transfer.
The spindle, result of the most advanced development, receives all electronic components. It is assembled with an oversized ball bearing and a needle bearing to ensure a better load distribution.
CORRECT MEASUREMENT IN THE CORRECT POSITION
The new EXAKT power meter uses the latest technical innovations we have developed.
Built with SRM's experienced handcrafted precision, the EXAKT power meter pedal measures and transmits accurate and consistent power data for the performance driven cyclist.
Accurate, lighter, efficient : simply EXAKT.
DESIGNED TO FACE THE ELEMENTS
The pedal waterproofness has been the focus of attention thanks to the integration of new components - double seals system on the inside and end cap on the external - which guarantee the watertightness of the axle line. Answering IPX6 / IPX7 * standard, the EXAKT will allow you to face the worst weather conditions.
IPX6 Powerful water jets / 1 minute per square meter for at least 3 minutes Water volume : 100 litres per minute Pressure : 100 kPa at distance of 3 m.
IPX7 Immersion, up to 1 m depth Test duration : 30 minutes.
100 HOURS OF AUTONOMY FOR AN EXTENDED EXPERIENCE
Every detail has been thought and improved to ensure an even easier experience.
Lithium ion batteries provide a 100h battery life *
Charging your batteries has never been easier.
It is not necessary to take off your pedals, a simple magnetic connector can recharge your two pedals simultaneously to ensure unlimited performance.