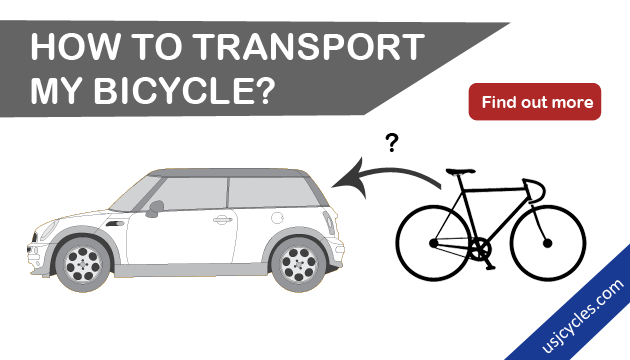 Many of our customers do not know how to transport their bike for repairing, checking, upgrading parts, etc. Based on our experience, there are many ways to transport your bike easily and safely.
Firstly, transport the bike without using any transport rack / carrier. For those driving SUV, MPV, Truck car has not issue on this. How about car type like sedan? Sedan car users need to put extra effort and careful to prevent bike scratches the car body.
So how?
For 16″/20″ bike, you can keep the bike in the car boot or passenger seat easily.
Step 1: Enter from left door
Step 2: Place a carton paper/carpet on top the car seat/car cushion
Step 3: Bike rear wheel get in first (rear wheel on top the seat)
Step 4: Push until the end
Step 5: Front wheel will be on the floor
Step 6: If there anything that may poke the cushion (middle chain wheel, stand), place the thicker carton paper on it
NOTE: Put thicker paper or carpet just below the chain.
For 24″/26″ or larger wheel, you can only put the bike into car boot.
Step 1: Move all the stuffs to both sides of the car boot, make sure middle area is empty
Step 2: Prepare two large and thick carton papers/floor mat, and a long string (Nylon)
Step 3: One on top the car boot, the other one would be on top the bicycle
Step 4: Rear wheel get in first (NOTE: Gear components must be facing on top)
Step 5: Turn the pedals (bottom one) to face to you
Step 6: Turn the handler (front wheel facing on top)
Step 7: Put the carton paper on top the bike frame/handle/wheels whichever touching the car boot cover
Step 6: Use the strip to tighten up
Do you feel troublesome?
There is a proper or best solution is to get the bike car carrier. Bike car carrier is design in such a way that user can carry their bike easily to anywhere they like. Cost of one rear bike car carrier is normally cost thousand ringgit and below.
[checklist]
Carry 2 – 3 bikes
Mobility
Stability
Quick installation
Available for any type of cars
[/checklist]
Looking for budget bike car carrier yet quality one?
Click

here

to find out more! 
[box_alert]NOTE: Above mentioned steps are just for your reference, we will not responsible for any accidents caused.[/box_alert]