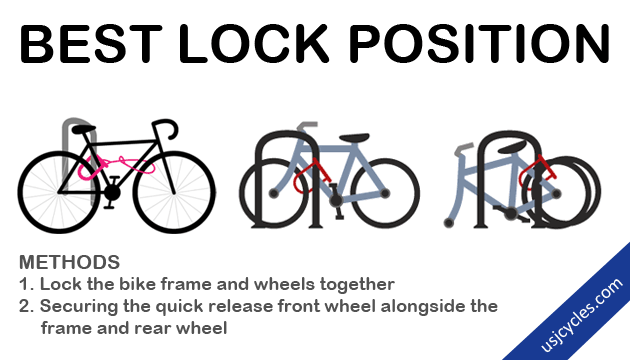 Super safety tips to lock your bicycle:
[arrowlist]
Always lock your bike's frame and wheels with few high-quality locks.
Always lock your bike, even if you're just leaving it for a moment.
Beware of locking to "lousy poles" that are loosely bolted down and can easily be removed.
Avoid locking to private property.
Store your bike inside the house or store room if space is available.
Lock your bike when keeping it in a garage or on a porch and cover up with plastic sheet.
[/arrowlist]
More Tips:
[arrowlist]
Don't leave removable gears (pumps, lights, cyclometer) on your bike.
Record your bike's serial number (bottom of the frame).
Take a photo of you and your bike. Keep the receipt. These will help you identify the bike.
Park your bike where others parked their bike.
Request for permission, don't simply park your bike to private property or the shop.
[/arrowlist]
Reference source : Chicago Bike Program