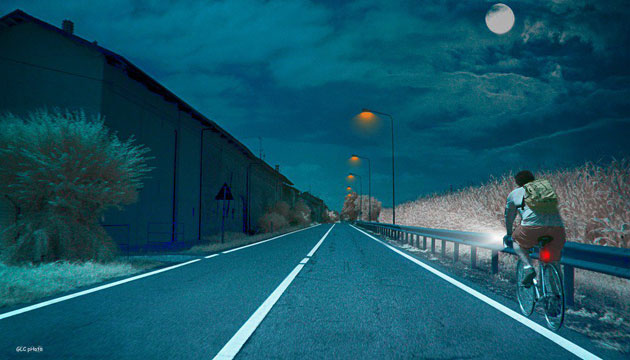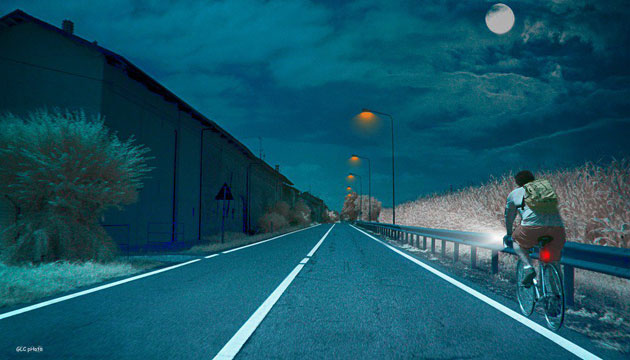 image credit to GLC Photo
With our hot and super humid tropical weather in Malaysia, the idea of cycling at night or very early in the morning is the only option for many of us! Nevertheless, safety should always be our number one priority when riding our bikes, so here are ten tips for riding in the dark.
1. Lights
We highly recommend you attach a high visibility and quality rear safety lightings to either your seat post or your right seat stay. Cateye Omni 3 a most simple durable LED rear safety light give sufficient visibility and attention of drivers. There are other high range of rear safety lightings, but these usually higher intensity, longer operating hour and rechargeable. Don't skimp on your safety!
2. Wear a brightly colored cycling kit
In some countries in Europe it is required for bicycle riders to wear at all times a fluorescent green or yellow vest for visibility. Malaysian road regulations don't have such requirements, but it makes sense to wear a light-colored cycling wear while cycling at night. Even better, nowadays you can find clothing, gloves, cycling shoes, helmets and many other accessories and bits of kit that have some sort of reflective paint or fabric on them.
3. More lights
Earlier mentioned lights are more to be seen rather than to see. In order for you to see clearly where you're going, you'll need a bicycle headlight. Once again, these are not required by JPJ (Malaysia Road Traffic Authority) but it only makes sense to want to see where you're going. For poorly to moderately lit city scenes it's recommended to have a front light with at least 200 lumens (Cateye Volt 200XC) in a well-focused beam. Many lights have multiple modes where you can set the intensity of the beam so you decide what best suits your riding style and environment.
4. Reflective sidewall tires
If you're not on a road bike and you're commuting on your bike, most manufacturers have tires with reflective sidewalls for commuter bikes. Schwalbe's Marathon Plus has a highly reflective strip which is very visible when crossing streets or switching lanes on your bike. These tires are normally fitted on hybrid/commuter bikes but in some cases, they can be also found or fitted to mountain bikes.
5. Reflectors
Most of riders remove the reflectors that attached on wheels, handlebar and seat post. Admittedly they're quite unsightly in some bikes, especially on road bikes and higher end models of other bikes. But reflectors come in a variety of forms, some you can attach to your rims as a sticker and look like part of a nice wheelset sticker branding. Companies like 3M make reflective tape which you can cut out or get in pre cut shapes that attach to your frame, helmet and other accessories.
6. Reflective material bike bags
If you're commuting to work or university, there are purpose-built (bike messenger bags) bike bags or saddle bags. These bags often are water proof and have reflective bottom strips that are right on the most visible point of the bag when riding. These bags also have stabilizing straps so that they don't dance around you when you're cycling to keep a safe and snug fit throughout your journey. Product ref. Topeak Wedge Dry Bag
7. Mirrors
It makes the bike looks less sporty, BUT, for safety reason, side mirrors is very practical and useful. Normally they come attached to a rubber strap that can be attached to your fork, down tube, end of your top bar or end of your drop bar. These will help you ride with more confidence knowing if there are any vehicles right behind you and help you anticipate if you need to perform an evasive maneuver to protect yourself out on the road. Product ref. Guee Side Mirror
8. Ride with the direction traffic
We often tend to think that because we're on a bike we can just go against the traffic. After all, we're riding on the shoulder of the road, bike lane or sidewalk. However, in most places the shoulder of the road is too narrow and you could startle oncoming traffic or be visible to them too late. It is harder to maneuver against an obstacle when it's coming at you rather than if it was moving along your direction so it's strongly recommended to avoiding riding against the flow of traffic.
9. Be predictable
It is very dangerous to ride on the road if drivers don't know what you're up to. Always look behind you (on your right, because you're a responsible rider and go with the flow of traffic!) and see if there are cars near you before approaching an intersection and make sure they're not going to cut ahead in front of you. If they do, be prepared to stop since some drivers aren't going to stop for you. Always signal when you will make a turn left or right by waving the corresponding hand so that drivers know what your intentions are and are prepared to slow down for you and always be alert when you do your maneuvers. One more tip, as part of this point. Maneuver with confidence; signal and if safe, immediately start executing your maneuver. If you hesitate you could confuse other road users and risk yourself to getting into an accident.
10. Ride in groups
If you're riding at night, try to avoid cycling at peak hours to avoid large volumes of traffic while out on the road. It is also a good idea, and arguably a lot more fun if you ride in group since all of you collectively become immediately more visible than just one person riding by themselves. Avoid busy highways or stretches of road and always stick to the edge of the road.