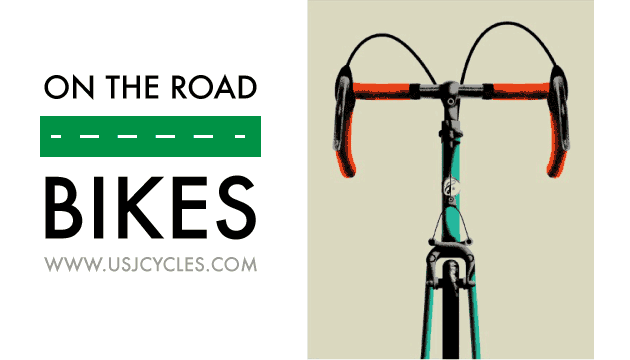 A road bike is mean a bike for on the road usage. Bike such as racing bikes, triathlon bikes, hybrid bikes, fixes are considered road bike category. With new technology incorporated into road bike frames and components, you'll be sure to find a lightweight and responsive bicycle for your needs and your budget.
Here are 10 things to consider when choosing a road bike:
1. Fit
Riding must feel comfortable and you'll want to buy a bicycle that fits your body.  The size of the bike should match you – know your body measurements, including stand over height and arm reach to help narrow down your bike choices. You can refer the frame size chart on specific brand on official webpage.
2. Frame Material
Is the frame made out of carbon fiber, titanium and aluminum?  The type of frame determines the weight of the bicycle and how much vibration you experience.  Carbon fiber is the lightest and steel is the heaviest, but steel will absorb many of the bumps on the road.  If you are going for pure speed, then select carbon fiber.
3. Intended Purpose
What activities will you be using when you ride your road bike?   Will you use it as an urban commuter, a recreational ride, a secondary bicycle for training, or your primary bike for racing?  You might even want to use it for more than one purpose.  The more performance you need out of your bicycle, the more it will cost.
4. Transmission
You can choose geared, single-speed, or fixed.   If you will be climbing hills, then consider some gears to help you overcome the elevation.   Single-speed and fixed gears are more efficient and require less maintenance and reduce the overall weight of your bike.  For faster shifting with a push of a button, consider a new technology – electronic shifting (pro rider only).
5. Brakes
With a road bike, you'll want to be able to stop effectively even from high speeds.  The most common brakes are rim or disc brakes.  Disc brakes work well in bad weather conditions due to operating at the center of the wheel, rather than at the rim.  Disc brakes require minimal maintenance and add an aesthetic appeal, but cost more.
6. Handlebars
Your hands will contact this part of the bicycle so make sure that the length and the width of your handlebar suits you.   In general , plan on purchasing a handlebar that is the same size as your shoulder width.  Flat handlebars provide more leverage while cornering, whereas drop handlebars give you more versatility in hand positions.
7. Saddle
The saddle (seat) contributes to a lot of your ride comfort, so choose the best road bike saddle you can afford.  Select a seat that is wide and firm enough to support your body weight.  A cutout may help alleviate pressure, but avoid saddles which cause discomfort.  For ladies, there are many companies that produce an anatomically correct fit.
8. Pedals
The place where you place your feet and generate the power to move is important.  You can have platform pedals, which are compatible with any shoe, clipless pedals where you wear special shoes and are anchored into your pedals, or a combination clipless/platform pedal where you can enjoy the best of both worlds.  Good pedals make for an enjoyable ride.
9. Riding Position
Your posture while sitting on your bike impacts how comfortable you'll be on any distance of ride.  The bike's frame geometry influences how upright or aerodynamic you are.  In general, you'll want to be able to reach your handlebars with ease.   Handlebar height, seat height, and properly positioned pedals will also ensure a comfortable ride.
10. Bike Handling
A responsive bicycle will give you the most control and safety during your ride.  Bike handling is impacted by the measurements of trail, bottom bracket drop, chain stay length and stem position length.   These influence how much effort it takes to steer, maneuver and handle corners while pedaling.  Again, a test ride will help you "feel" these differences.
This guide was meant as an overview of important items to consider.  Many other factors will come into play, but first understand your preferences and your goals.  Knowing your needs and then purchasing your bicycle and its components is a very satisfying and fun experience.  A bicycle is made up of many different parts, so choose whatever works for you.
Image credit to designspiration.net
Latest 2015 Road Bikes Available Now :