Topeak PanoBike Computer w Bluetooth® Smart
Total Function : 17 Function
2.3" Big Screen
Mode Button : Single Multi-function
Auto Sleep : Yes
Battery Life : 180 hours (CR2032)
Water Resistant IPX 5
Transmission Range : < 5 meter (16.4 ft)
Mount : Handlebar Mount (ø 31.8 mm)
Added Features Compatible with RideCase Mounts
Included Speed & Cadence Dual Sensor
Included Mount Compatible with all Topeak Phone Packs and RideCase
Heart Rate Sensor (Sold seperately)
Size (L x W x H)
– 6.7 x 4.4 x 1.4 cm (Computer Only) | 30g
– 5.4 x 1.2 x 3.3 cm (Sensors Only) | 21g
Made in Taiwan
In stock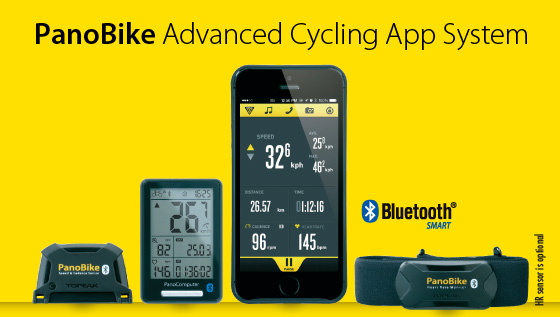 Data Syncs with Topeak PanoBike App on iPhone 4S or above and devices with iOS 7 or above/ Smartphones with Bluetooth® Smart (BLE 4.0) and Android OS 4.3 or above.
This Bluetooth® Smart (BLE 4.0) enabled wireless cycle computer features advanced DUAL MODE (Computer and Remote Monitor) technology allows computer operates separately or use with smartphone to access GPS data, save battery charge, and store ride data on smartphone.
– Computer Mode connects the computer and Speed/ Cadence sensor for real time ride data. Switch to Remote Monitor Mode to sync data with Topeak PanoBike App using a Bluetooth® Smart ready smartphone or tablet.
– Remote Monitor Mode connects your smartphone and Speed/Cadence sensor for real time ride data and displays ride information on the computer's 2.3″ screen. This allows you to carry your smartphone in a backpack, saddle bag or jersey pocket.
* iPhone is a registered trademark of Apple Inc.
* Bluetooth® is a registered trademark of Bluetooth SIG, Inc.
Get Topeak Cycling App here

At Topeak, exciting new ideas for accessories are spinning at full speed and driving us ahead in a never ending cycle of innovation.
From our humble beginning in 1991 our passion for cycling has evolved into the making of the worlds finest cycling accessories. In almost every category, our products set the standard of innovation, performance and durability. Topeak delivers the convenience and enjoyment your cycling customers deserve.
---