Tacx Neo Smart Trainer T2800
Max power (40km/h) : 2200 Watt
Magent: 32 Neodymium magnets
Type: Interactive Smart direct drive with motor brake
Operation : Automatic
Max slope : 25% 1
Accuracy : < 1%
Max Torque : 85Nm
Max Brake Force : 250N
Flywheel Effect: Variable to 125 kg
NOTE: Cassette is excluded
The Tacx NEO Smart is the most powerful and silent indoor trainer to date. It is the only real direct drive as it does not contain any physical transmission like a roller or belt. The NEO is also the only indoor trainer that can simulate different types of road surfaces.
Most silent, accurate and realistic trainer to date
The NEO's innovative working principle has been the key to mastering the contradiction of being able to create a very powerful yet silent trainer. To optimize power efficiency from pedal to motor we eliminated all physical transitions, no belt, roller or wheel.
Endless Power without Complications
The offers high power levels at low speeds, enabling accurate hill climb simulations, without complications of calibrations and maintenance.
Highly Intelligent Mind
This brute force is harnessed by a highly intelligent mind. True road feel for any person and all slope magnitudes are achieved by the variable inertia control, the NEO predicts your movement 1000x per second and adjusts the resistance accordingly.
Exceptional Accuracy
The NEO derives its strength from an electromotor containing 32, precisely positioned magnets that rotate around 30 coils. This exceptional accuracy ensures minimal power loss – almost close to nothing – when training.
Plug-in/Plug-out Technology
Train anywhere. This unique feature enables the NEO to be used with or without mains power.
Downhill Drive
This feature enables the simulation of a descent and the dead centre in your pedal stroke. When you are going down a mountain in a Tacx Film, virtual world or GPS based training, the wheel keeps spinning. Just like when you're riding outdoors.
Road surface simulation
Experience the feeling of riding on cobblestones, gravel and off road, all while you are indoors. You feel the vibrations of the road surface in your legs, exactly the way it would feel outdoors. This entirely new feature is unique to the NEO and can be used with some Tacx Films, virtual worlds and Zwift.
Big stable foot print. Maximize stability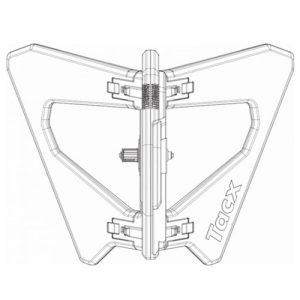 Dimension: 750 x 575mm

Cleverly Foldable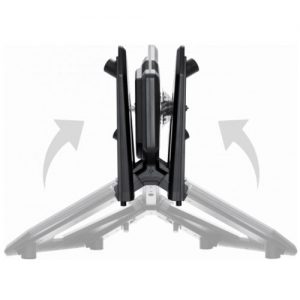 After folding up the NEO the wings serve as a handle, increasing the trainer's ease of use.

Rocking it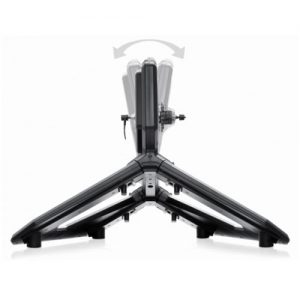 A little bit of flex is built into the NEO's frame in order to provide a more realistic cycling feeling.
Compatible software
Tacx Smart trainers use the Bluetooth Smart and ANT+ FE-C protocol for communication which allows them to be controlled by third-party software. The software receives the speed, cadence and power from the trainer and controls the brake. Click on more information for an explanation of the compatibility and functions of each software package.
Tacx Neo Specifications
| Features | Specifications |
| --- | --- |
| Magnets | 32 Neodymium magnets |
| Type of trainer | Interactive Smart direct drive with motor brake |
| Transmission | None |
| Electrical requirements | 110-240 Volt , Mains power optional |
| Power indicator (Wattage) | Multicolour LED , spot on floor |
| Connection indicator (ANT/BT) | 2 LEDs |
| Firmware upgradable | Yes |
| Supplied with | Front wheel support , Quick release for racing bikes and mountain bikes (5 mm) |
| Suitable bikes | Width of rear fork: Race 130mm, MTB 135mm. Adapters for other widths available |
| Suitable cassettes | various Shimano, SRAM & Campagnolo cassettes |
| Max. power (40 km/h) | 2200 Watt |
| Max. slope | 0.25 |
| Simulation of descent | Yes |
| Max. torque | 85Nm |
| Max. brake force | 250 N |
| Flywheel | Virtual |
| Flywheel effect | Variable to 125 kg (275.6 lbs) |
| Calibration | No calibration required |
| Footprint (lxw) | 575x750mm (22.6x29.5 in) |
| Height | 550 mm (21.7 in) |
| Dimensions when folded | 620x260x440mm (24.4x10.2x17.3 in) |
| Weight | 21.5 kg (47.3 lbs) |
| Article number | T2800 |
| DATA OUTPUT AND CONTROL | |
| Wireless communication | ANT+ FE-C , Bluetooth Smart open |
| Control by | Smartphone, tablet, ANT+ FE-C bike computers and stand-alone Connect to computer via ANT+ antenna |
| Output | Speed, cadence and power |
| Read out on | Smartphone, tablet, bike computer, sports watch, computer with ANT+ antenna |
| Accuracy | <2% |

SHIMANO : All models 9/10/11
SRAM : All models 9/10/11
CAMPY: All models EXCEPT (9s Centaur / 10s Veloce Centaur (2009 – 2011) / 11s Centaur )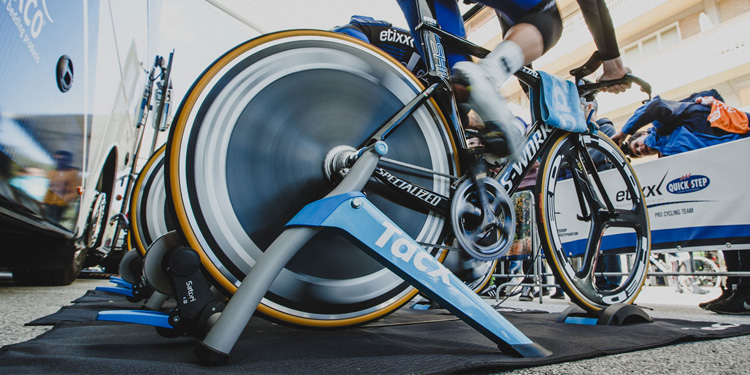 Tacx (Indoor Bike Trainers) designs and manufactures indoor bike trainers and bike accessories. Our goal is to motivate and inspire athletes to enjoy to push their limits. We do this by producing innovative, high quality products. In doing so, we combine our passion for the sport of cycling with our passion for technics. Out of this passion we started as a cycling and moped shop in Wassenaar, the Netherlands, half a century ago. In these early days, we decided to manufacture bike components in-house because this lead to better products. Our production is still located in the Netherlands. Made in Holland.
---