The Tacx FLUX Smart Trainer is a compact and realistic interactive direct drive and is maintenance-free. The swift response of the Smart electronics and the 7kg flywheel transmit the slightest fluctuations in resistance directly and accurately to your legs.
Two Technologies Combined
With the Tacx FLUX Smart Trainer we combined direct drive technology with an electro brake in order to offer an accessible Smart and interactive direct drive.
Smart & Fully Connected
The trainer is connected wirelessly to smartphones and tablets and knows the ANT+ FE-C protocol, enabling you to trainer with Tacx apps as well as third-party apps like Zwift and TrainerRoad. You can also train stand-alone; If you do not connect the trainer, it will simulate flat road.
BIG Flywheel
The Tacx Flux smart trainer offers the truest simulation of a pedal stroke as it is equipped with the heaviest flywheel (7kg flywheel).
Sssst
The inner parts of the Tacx Flux Smart Trainer are carefully selected to minimise sound level.
Automatic Calibration
The setup of the Tacx Flux Smart Trainer enables an easy, automatic calibration process to ensure high accuracy (<5% accuracy).
BikeRadar Verdict
"Quiet, solid direct driver with impressively accurate yet user friendly data communication and software interaction at a great price"
Stable & Robust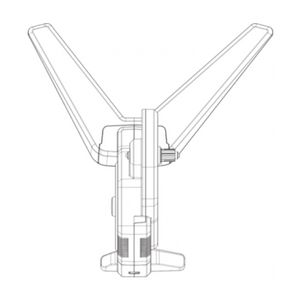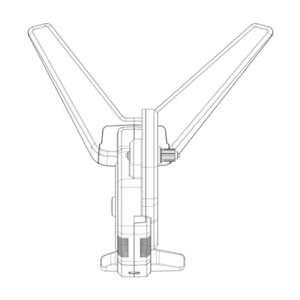 Dimension: 670 x 650mm

Plug & Play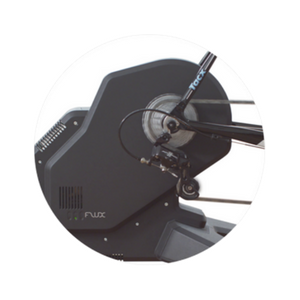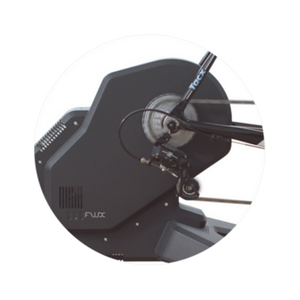 As the Tacx Flux is a direct drive you simply remove your bike's rear wheel and place it directly on the trainer, step on and start training!

Connection Revealed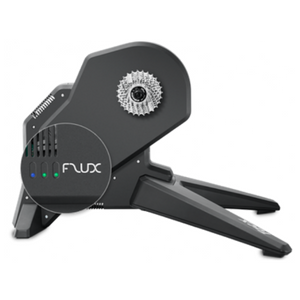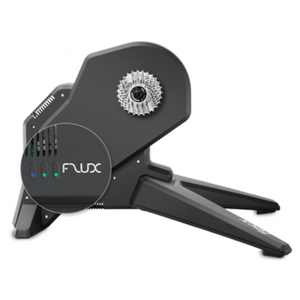 The Tacx Flux shows when it is connected to the mains and to a device over ANT+ or Bluetooth by an LED light on the side.
Compatible software
Tacx Smart trainers use the Bluetooth Smart and ANT+ FE-C protocol for communication which allows them to be controlled by third-party software. The software receives the speed, cadence and power from the trainer and controls the brake. Click on more information for an explanation of the compatibility and functions of each software package.