Tacx Bushido Smart Trainer
Software Tacx apps & Third party apps. PC software via upgrade.
Operation Automatic
Resistance unit Wireless motor
Realistic slope 15% 1
Descent simulation –
Max brake power (10 sec.) 1400 Watt
Sprint power (1 min.) 750 Watt
Mass inertia 60 kg 2
Suitable for all bikes, if necessary with axle skewers or nuts
Wheel diameter 26″- 29″ and 700c; 29″ with trainer tire
The Tacx Bushido is an interactive Smart trainer with wireless motor brake. It's wireless-motor brake, with a maximum resistance of 1400 Watts, ensures smooth pedaling, even during steep climbs. The Bushido powers itself and is therefore completely wireless, it doesn't even need a power cable. Instead of training with a handlebar computer you can connect the trainer to the Tacx apps quickly and easily.
Just like the other Smart trainers, the Bushido uses ANT+ and Bluetooth® Smart to communicate with the connected device for convenient training sessions. Performance data can be viewed on several devices simultaneously, including your smartphone, bike computer and sports watch.
When the Bushido Smart isn't connected to a smartphone, tablet or computer, it behaves as a fluid trainer. This means the trainer behaves progressively: when your speed increases, the resistance increases as well. So it is possible to use this trainer in a "stand-alone" status. Since the Bushido is not hooked up to the power net, you can use this trainer anytime and anywhere. Even when you don't have your smartphone with you.
Only logged in customers who have purchased this product may leave a review.
The motor brake is the most advanced resistance unit that provides the most realistic cycling experience. The resistance is dynamically controlled, it is constantly calculated and adjusted in order to simulate natural road resistance.

When calculating the brake resistance all physical formulas a cyclist encounters on the road are applied to reach a true situation. Air and rolling resistance, gradient percentage, weight, air pressure, wind speed, temperature, altitude, inertia and brake properties are all taken into account and calculated hundreds of times per second to achieve a realistic feel.

Tacx trainers feature a dynamic control of the braking force. Other trainers use a flywheel to pass the dead centre, Tacx trainers constantly adjust the resistance to simulate the most natural handling. Thanks to the dynamic braking system virtual climbs become real challenges.

LED lights The motor brake is equipped with LED lights that move to the rhythm of your cadence. The red lights light up when the power output is high. When the power output is low, the green lights are more visible.

Cadence The Bushido works without a cadence sensor. The cadence is derived from the variation in force on the pedals and recorded by highly accurate electronic sensors. More info >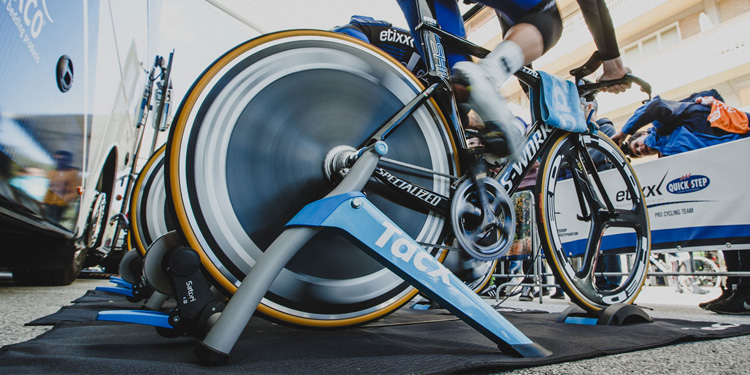 Tacx (Indoor Bike Trainers) designs and manufactures indoor bike trainers and bike accessories. Our goal is to motivate and inspire athletes to enjoy to push their limits. We do this by producing innovative, high quality products. In doing so, we combine our passion for the sport of cycling with our passion for technics. Out of this passion we started as a cycling and moped shop in Wassenaar, the Netherlands, half a century ago. In these early days, we decided to manufacture bike components in-house because this lead to better products. Our production is still located in the Netherlands. Made in Holland.
---