Muc-Off Wash & Protect
BENEFITS
Contains Nano Tech Bike Cleaner
Contains MO-94
Contains Biodegradable Wet Lube
NOTE: This item ship within Pen.Malaysia only
In stock
Nano Tech Bike Cleaner
Muc-Off Biodegradable Bike Cleaner has an incredibly effective cleaning formula containing 'Nano Technology' that also cares for your bike's delicate finishes. It contains no harmful acids, CFC's or solvents and is fully biodegradable.
MO-94
Looking for an all round wonder spray? Look no further! Muc-Off MO-94 covers all the bases with its incredible PTFE formula to quickly and effectively penetrate moisture, lubricate moving parts and leave a long lasting protective film. MO-94 prevents dirt adhesion and also drives out excess water to keep rust and corrosion at bay.
Biodegradable Wet Lube
Muc-Off Biodegradable Wet Chain Lube is an ultra durable, long distance bicycle chain lubricant, it's been specifically formulated to excel over long distances in wet or muddy conditions. Our state of the art formula has been derived from natural ingredients and made completely from renewable sources. It penetrates deep into your chain link's to provide long lasting lubrication and total protection. Our integral 'Extreme Pressure Additives' coat every part of the link to provide a silky smooth gear change and an ultra efficient drive chain.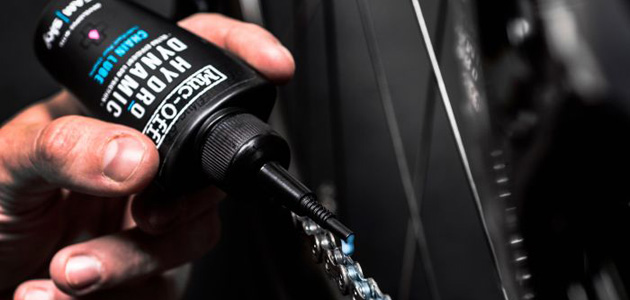 At Muc-Off (Malaysia) is big into being active. Whether it's on a mountain, trail or at the skate park, the brand just love to be outside and going big. Muc-Off is now the go-to brand for top riders and racers from the likes of Team Sky to Atherton Racing. And, in case you haven't noticed, we do a bit more than our original pink cleaner these days. They have our very own Chain Lube Optimisation Dynamometer and Athlete Performance range including a unique Amino Patch Technology. Shop now at Muc-Off authorised dealer in Malaysia – USJ CYCLES for great deals on bike maintenance care kit.
---