Muc-Off Team Sky Hydronamic Lube
Ideal for Road Cycling and Cyclocross
Provides the ultimate performance in both wet & damp or dry & dusty conditions
Petroleum free formula for eco protection
Synthetic polymers for long distance performance
Incredible durability
Pipette system for easy application
In stock
Hand blended in the UK, we used the finest ingredients to create a sophisticated, synergistic blend of esters coupled with aerospace quality based oil lubrication, before packing it with ground-breaking extreme pressure additives. All this means it's possible to create a high strength film forming lubricant which prevents metal to metal contact to ensure peak performance, even under the most extreme workloads that a pro peloton can throw at it. Each handmade batch takes hours of painstaking work to deliver a highly advanced bicycle chain lubricant, reaching previously unobtainable levels of lubrication and protection.
Only logged in customers who have purchased this product may leave a review.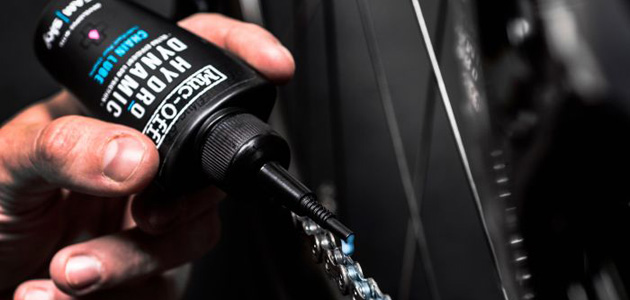 At Muc-Off (Malaysia) is big into being active. Whether it's on a mountain, trail or at the skate park, the brand just love to be outside and going big. Muc-Off is now the go-to brand for top riders and racers from the likes of Team Sky to Atherton Racing. And, in case you haven't noticed, we do a bit more than our original pink cleaner these days. They have our very own Chain Lube Optimisation Dynamometer and Athlete Performance range including a unique Amino Patch Technology. Shop now at Muc-Off authorised dealer in Malaysia – USJ CYCLES for great deals on bike maintenance care kit.
---