Muc-Off Miracle Shine
BENEFITS
Removes imperfections and fills minor scratches
Flouro Polymer technology creates a microscopic layer of protection
Repels water and atmospheric pollutants
Reduces washing and maintenance time
Silicon oils allow easy application and incredible depth of shine
Will not leave a powdery white residue
Safe on paintwork, clear coat, carbon fibre, chrome, metal & plastics
NOTE: This item ship within Pen.Malaysia only
In stock
Let's not beat around the bush, you want a high quality polish and protectant that delivers a deep and luxurious shine for your cars bodywork, Muc-Off Miracle Shine is the product for that job. Not only does our Miracle Shine give you amazing reflective results – but it also covers the treated areas with a microscopic protective layer against atmospheric pollutants, thanks to it's Fluoro Polymer Technology! Our luxurious polish also includes Carnauba Wax as well as other highly advanced ingredients so that your paintwork is treated with love and respect. So if you want your paint finish to gleam like new, make the water bead away furiously and make the car easier to clean next time, Muc-Off Miracle Shine is the product for you.
Directions for use:
Step 1 – Thoroughly wash and dry surfaces before use. Shake can vigorously and apply a small amount of Miracle Shine using a microfibre cloth.
Step 2 – Wait approximately 30-45 seconds or until the polish begins to haze before gently buffing it off. Do not let polish dry or apply in direct sunlight.
Step 3 – Multiple coats may be applied for increased protection and shine. Wait 24 hours before reapplying.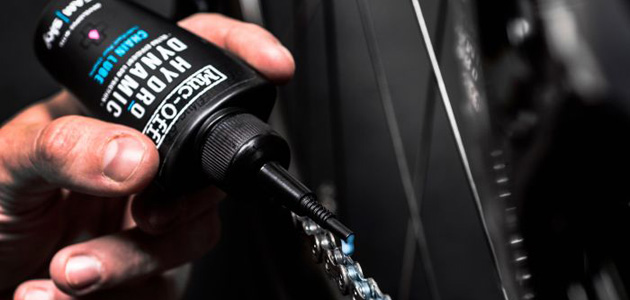 At Muc-Off (Malaysia) is big into being active. Whether it's on a mountain, trail or at the skate park, the brand just love to be outside and going big. Muc-Off is now the go-to brand for top riders and racers from the likes of Team Sky to Atherton Racing. And, in case you haven't noticed, we do a bit more than our original pink cleaner these days. They have our very own Chain Lube Optimisation Dynamometer and Athlete Performance range including a unique Amino Patch Technology. Shop now at Muc-Off authorised dealer in Malaysia – USJ CYCLES for great deals on bike maintenance care kit.
---