Muc-Off Chain Kit
Muc-Off Bio De-greaser
Quickly and safely eliminates chain grease and grime.
Ideal for urban maintenance.
Cuts through grease to improve performance.
Removes all chain contaminants to prevent chain wear.
Safe on all chain types.
Muc-Off Dry Lube
Wax based formula excels in dry, dusty conditions.
Added protection against contaminants.
Provides smooth and quiet gear shifting.
Can be applied to chain, cables, shifters and derailleurs.
Muc-Off Wet Lube
Ensures silky smooth gear shifts
Repels water for chain and component protection
Excels in wet, muddy riding conditions
Extreme pressure additives for increased efficiency
Biodegradable
NOTE: This item ship within Pen.Malaysia only
Out of stock
Muc-Off Bio-Degreaser
Muc-Off's advanced Quick Drying Chain Cleaner has been designed and tested to remove heavy chain grime quickly and safely without the need for rinsing. Its unique zero residue formula means that after cleaning, Quick Drying Chain Cleaner simply evaporates to leave your chain thoroughly clean of grime and residue so it's instantly ready for chain lube application. Don't forget that if you're looking for optimum results, you can always use our Chain Doc cleaning device for hassle free chain maintenance.
Muc-Off Dry Lube
Muc-Off Dry Chain Lube is a durable, deep penetrating P.T.F.E Chain Lubricant and oil that's formulated to hold up in extreme conditions that would destroy ordinary chain lubes. Muc-Off Dry Lube is a highly versatile, dry weather chain oil that has state of the art penetrative qualities to ensure that the lube is driven deep into each chain link's core. And there's no need to worry because Muc-Off Dry Lube is biodegradable, so it's safe for you, your bike and the planet.
Muc-Off Wet Lube
Muc-Off Wet Chain Lube is an ultra durable, long distance bicycle chain lubricant and oil that's been specifically formulated to excel over long distances in wet or muddy conditions. Our state of the art formula has been derived from natural ingredients and made completely from renewable sources.
Only logged in customers who have purchased this product may leave a review.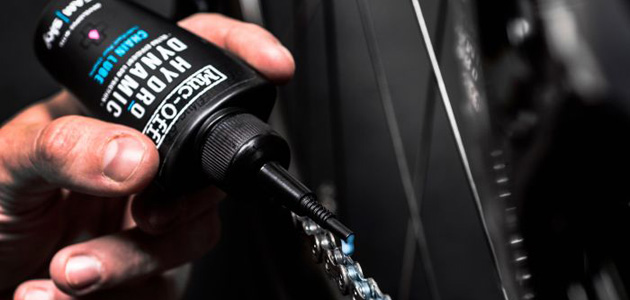 At Muc-Off (Malaysia) is big into being active. Whether it's on a mountain, trail or at the skate park, the brand just love to be outside and going big. Muc-Off is now the go-to brand for top riders and racers from the likes of Team Sky to Atherton Racing. And, in case you haven't noticed, we do a bit more than our original pink cleaner these days. They have our very own Chain Lube Optimisation Dynamometer and Athlete Performance range including a unique Amino Patch Technology. Shop now at Muc-Off authorised dealer in Malaysia – USJ CYCLES for great deals on bike maintenance care kit.
---