Muc-Off C3 Ceramic Wet Lube
BENEFITS
Ideal chain lubricant for Road Cycling, Cyclocross & MTB
Excels in wet, muddy conditions
Contains Fluoro Polymers & Boron Nitrides for efficiency
Creates Ceramic coating for chain protection
Ultra long distance performance
Incredible durability
Pippette system for accurate, easy application
In stock
The secret to the C3 Ceramic Wet Chain Lube is its unique ceramic coating that provides incredible durability and long distance performance on all bicycle chains. The innovative formulation in our chain oil also uses Boron Nitride and Fluoro Polymers to ensure ultra low friction for ultimate drive chain efficiency, high performance and durability. The waterproof qualities of Muc-Off C3 Ceramic Wet Chain Lube also mean that your drive chain will excel in the harshest of riding conditions.
Looking for long chain oil service intervals and precision gear changes with super low friction reduction? Look no further. C3 Ceramic Wet Lube is packaged in an ergonomic bottle complete with pipette system for easy use and application. It's also 95% biodegradable and is ideal for Road, Cyclocross and MTB.
Directions for use:
Clean drive chain thoroughly before lube application.
Ensure drive chain area is dry.
Apply a moderate amount of C3 Ceramic Wet Chain lube to the inside chain link while spinning pedals in a reverse motion.
Wipe away any excess chain lube.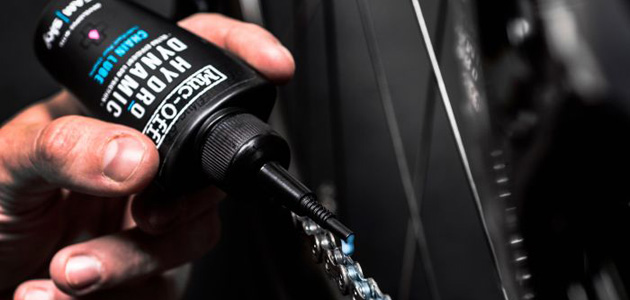 At Muc-Off (Malaysia) is big into being active. Whether it's on a mountain, trail or at the skate park, the brand just love to be outside and going big. Muc-Off is now the go-to brand for top riders and racers from the likes of Team Sky to Atherton Racing. And, in case you haven't noticed, we do a bit more than our original pink cleaner these days. They have our very own Chain Lube Optimisation Dynamometer and Athlete Performance range including a unique Amino Patch Technology. Shop now at Muc-Off authorised dealer in Malaysia – USJ CYCLES for great deals on bike maintenance care kit.
---