Muc-Off C3 Ceramic Dry Lube
BENEFITS
Ideal for Road Cycling, Cyclocross & MTB
Provides the ultimate performance in damp, dry & dusty conditions
Petroleum free formula for eco protection
Ceramic coating for increased drive chain protection
Synthetic polymers for long distance performance
Incredible durability
Pipette system for easy application
Includes UV torch to check for 100% coverage
In stock
C3 Dry Ceramic Chain Lube raises the bar when it comes to providing the ultimate lubrication. It provides total corrosion protection and unparalleled performance in dry, dusty and damp conditions. With added nano ceramic particles and synthetic polymers, C3 Dry Ceramic Chain Lube maximises your power output by reducing metal to metal contact to a ground breaking, low level and provides up to 10 times the performance of conventional chain oils and lubes. The Muc-Off R&D team definitely didn't cut corners when they brought the future of bike lubes to the masses.
In fact, our team made sure the C3 Dry Ceramic Lube is safe by creating a biodegradable, petroleum free formula so you don't have to worry about yourself, your bike or the planet. The new C3 Dry Ceramic Lube is available in 5ml, 50ml, 120ml and 1ltr sizes so whether you're in the workshop, on the road or hitting the trails, we've got you covered.
Directions for use:
Fully de-grease drive chain thoroughly before lube application.
Ensure drive chain area is dry.
Shake bottle vigorously and apply a moderate amount of C3 Dry Lube to the inside chain link, whilst spinning pedals in a reverse motion.
Ideally apply 3-4 hours before your ride.
Check to make sure the lube coverage is even using the supplied UV Torch!
Wipe excess lube carefully
Only logged in customers who have purchased this product may leave a review.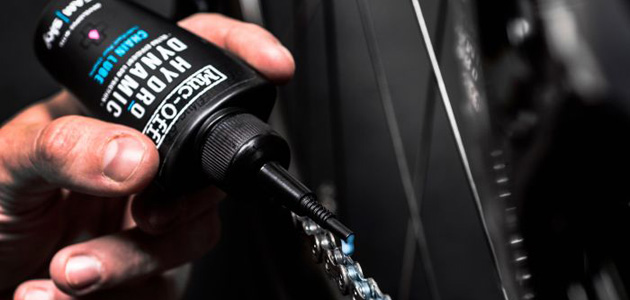 At Muc-Off (Malaysia) is big into being active. Whether it's on a mountain, trail or at the skate park, the brand just love to be outside and going big. Muc-Off is now the go-to brand for top riders and racers from the likes of Team Sky to Atherton Racing. And, in case you haven't noticed, we do a bit more than our original pink cleaner these days. They have our very own Chain Lube Optimisation Dynamometer and Athlete Performance range including a unique Amino Patch Technology. Shop now at Muc-Off authorised dealer in Malaysia – USJ CYCLES for great deals on bike maintenance care kit.
---