Muc-Off Bio Wet Lube
Ensures silky smooth gear shifts
Reduces friction and energy consumption
Repels water for chain and component protection
Excels in wet, muddy riding conditions
Extreme pressure additives for increased efficiency
Vegetable oil based formula for eco protection
Biodegradable
Pipette system for easy application
Can be applied to chain, shifters, cables and derailleurs
Ideal for MTB, Road and Cyclocross
NOTE: This item ship within Pen.Malaysia only
In stock
Muc-Off Wet Chain Lube is an ultra durable, long distance bicycle chain lubricant and oil that's been specifically formulated to excel over long distances in wet or muddy conditions. Our state of the art formula has been derived from natural ingredients and made completely from renewable sources.
Muc-Off Wet Chain Lube penetrates deep into your chain link's core to provide long lasting lubrication and total protection. Our integral 'Extreme Pressure Additives' coat every part of the link to provide a silky smooth gear change and an ultra efficient drive chain.
Only logged in customers who have purchased this product may leave a review.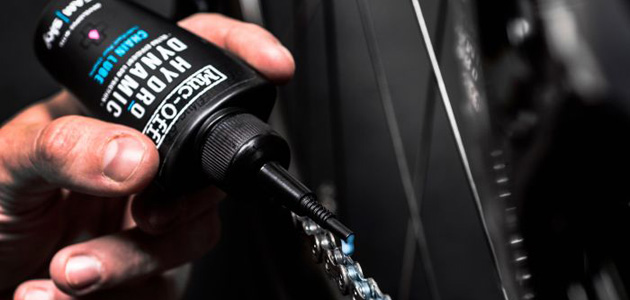 At Muc-Off (Malaysia) is big into being active. Whether it's on a mountain, trail or at the skate park, the brand just love to be outside and going big. Muc-Off is now the go-to brand for top riders and racers from the likes of Team Sky to Atherton Racing. And, in case you haven't noticed, we do a bit more than our original pink cleaner these days. They have our very own Chain Lube Optimisation Dynamometer and Athlete Performance range including a unique Amino Patch Technology. Shop now at Muc-Off authorised dealer in Malaysia – USJ CYCLES for great deals on bike maintenance care kit.
---