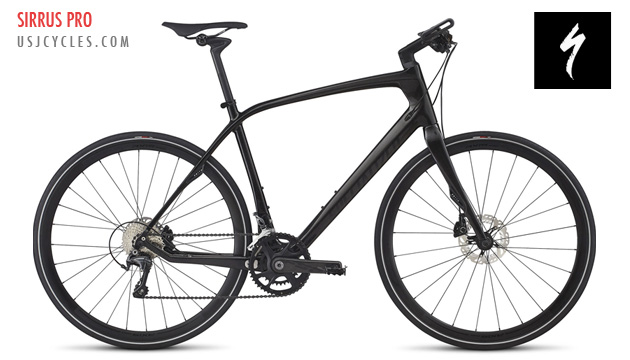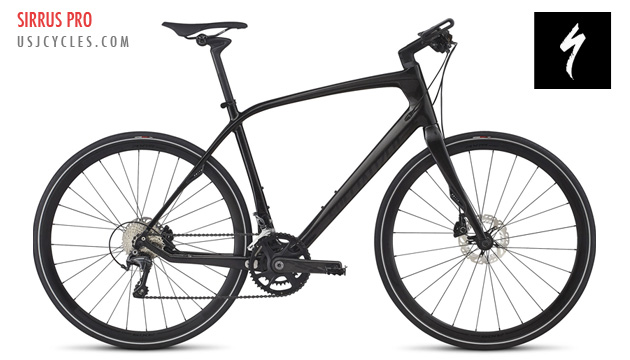 Fitness is not a fad, and the Sirrus proves you're taking your fitness journey seriously. The 2017 Sirrus Pro Carbon combines a quality carbon frame and high-end components to deliver a comfortable and fast ride. As you push yourself to reach your goals, the Sirrus will be a powerful ally to have on your health and well-being team.
Zertz inserts in the lightweight Specialized FACT 9r carbon frame, and agile and responsive Specialized FACT carbon full-monocoque fork, absorb road roughness and give you a smoother ride.
Axis 4.0 Disc wheels come fitted with fast-rolling Specialized Roubaix Pro tires. These tires feature
BlackBelt casing and provide added comfort and puncture protection on your ride.
The frame is engineered and designed with Fitness Geometry, helping you ride more efficiently in a position that will see you riding comfortably, mile-after-mile, while the Body Geometry Phenom Expert saddle reduces pressure and assures blood flow to sensitive arteries.
Versatility comes in the form of rack and fender mounts, allowing you to carry gear or to fend off road spray in inclement weather.
Product Highlights:
Specialized FACT 9r Carbon with Fitness Geometer
Specialized FACT carbon – Full Monocoque with Zert
Shimano Ultegra 2 x 11-Speed
Shimano Hydraulic Disc Brakes (Ice-tech)
FSA SL-K Light Crank
Body Geometry Phenom Expert Saddle
Sizing chart: