Specialized Roubaix Elite
Product Highlights:
Frame: FACT 10r carbon, Endurance Geometry, Rider-First Engineered™, 12x142mm thru-axle, Future Shock suspension, 20mm of travel
Fork: Roubaix disc, FACT 11r carbon, 12x100mm thru-axle
Gearset: Shimano 105, 11-speed
Handlebar: Specialized Hover Comp Alloy, 15mm rise, 125mm drop, 75mm reach
Saddle: Phenom Comp GT, 143mm
MY17
The idea of a perfect road is a myth, as there's always a chip, a crack, a rough patch—you name it. But with our all-new Specialized Roubaix Elite, you'll be taming wild asphalt without any extra effort. This is how road bikes were always meant to be.
Featuring our Rider-First Engineered™ design that ensures every frame size has the same legendary responsiveness and smooth ride quality that you'd expect from a Roubaix. The FACT 10r frameset is exceptional in every way, offering the ideal blend of light overall weight and targeted stiffness. Meanwhile, the all-new Future Shock "suspension" system at the cockpit delivers a revolutionary degree of comfort and control.
A Roubaix Disc fork is built from our top-end FACT 11r carbon fiber for supreme stiffness, strength, and reactivity, while a thru-axle design only stands to bolster all of the above.
This Praxis Alba 2D crankset is perfect for tackling steep grades and rough roads, and it also features supreme ramping for precise shifts between rings.
Comes equipped with a 40lbs spring (color: yellow, weight: firm) installed, and also includes both 13lbs (color: blue, weight: soft) and 25lbs (color: black, weight: medium) springs that can be installed to match the terrain you're riding.
Only logged in customers who have purchased this product may leave a review.
Why spring (future shock integration)?
It inspired from McLaren rolling efficiency module. It improve the smoothness and remain power transfer efficiency.
Will the spring reduce the stiffness? NO. Roubaix frame is completely new design of endurance bike. The stiffness are 10r grade which similar to Tarmac pro series. Its completely rigid frame & fork
Why disc brakes?
Disc brakes create better braking efficiency and evenly stopping distribution. Longer life span of rim profile.
"The key design of roubaix is comfort & performance endurance road bike"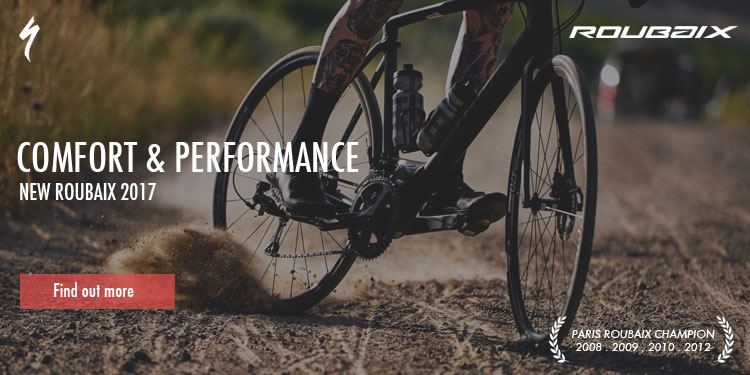 Specialized was founded in 1974 by Mike Sinyard, introduced the first major production mountain bike in the world, the Stumpjumper, in 1981.Specialized, is a major American brand of bicycles and related products.
Today, Specialized produces a full range of high-end and entry-level road bikes, mountain bikes, commuter/city bikes, children's bikes, and BMX bikes. The company also offers an extensive line of bike accessories, including helmets, water bottles, jerseys, tires, and shoes.
That is why Specialized is the choice of riders on the world professional cycling circuit.
Note: Specialized Bikes & Components are shop from store only.
---