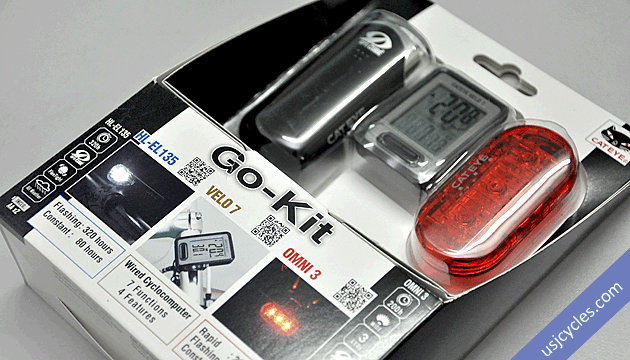 The latest Cateye combo set called – Go Kit. This combo set is design for those just want to have a simple safety lighting kit for night or early morning ride. It also include the 7 functions cyclometer – Velo 7 which enable to record your journey such as total distance, average speed, etc. It absolutely easy to install.
Combo GO Kit includes
HL-EL135 Headlight
– Flashing 320hours
– Constant 80 hours
CC-VL520 Velo 7 Cycle Computer
– 7 Function (Avg Speed, Max Speed, Current Speed, Trip, Total Distance, Time, Elapsed Time)
– 4 Features
TL-LD135-R Omni 3 Taillight
– Rapid: 200 hours
– Flashing 150 hours
– Constant 100 hours
NOTE: All the items are inclusive batteries.
Combo Price: Rm 199 | Offer: RM 179 (incl. GST)